About Fisher Shipping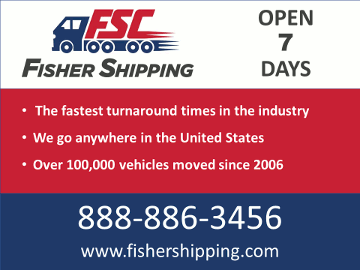 When thinking about Fisher Shipping, think about trust, speed, reliability, experience and great customer service. We know you need to depend upon a reliable auto transport company who takes your business as seriously as you do. With over 30 years of experience in the auto transport industry, the ownership at Fisher Shipping knows how to serve you reliably, expertly and at a reasonable cost.
Since opening for business in 2006, we have transported more than 100,000 vehicles all over the United States. We have moved vehicles for auto dealerships, fleet management companies, major corporations and thousands of private individuals all over the world. Whether you need to ship your car to Florida for the winter, move a fleet of cars across the state or even across the country, no job is too big. Every vehicle matters to us.
Our agents work hard to stay on top of industry trends and build realistic expectations for our customers, although this is not a perfect science. While problems and unexpected issues do crop up from time to time, rest assured our staff is trained in handling these situations. They will do everything in their power to make your experience with us a positive one, like it has been for many other customers.
Why choose Fisher Shipping to transport your car?
We deal with only licensed and insured carriers. These are the best in the country.
Our rates are real: no hidden add-ons or junk fees. What we quote is what we charge.
We offer unparalleled customer service. You get live help from people with decades of experience moving vehicles throughout the country. They're ready to serve you 7 days a week beyond standard business hours – 9 a.m. to 9 p.m. Plus, our customers love us – check out our reviews on BBB, Yelp and Google.
Never a gap in insurance coverage. Fisher Shipping makes sure the carrier's insurance and D.O.T. authority is current and active. We also carry our own contingent cargo insurance as a backup.
Real, live human beings that you can speak with. No voicemail between 9-5 E.S.T., Monday through Friday.
We know how to move your car quickly. Fisher Shipping can get just about anything picked up in a day or two.
We have worked hard over the years to create a process that truly takes the headache out of auto transport. Our network of over 5,000 trucking companies allows us to get your vehicles moved quickly, and by drivers that care. Let us show you the difference between Fisher Shipping Company…….and everyone else. Request a free car shipping quote or call us at 1 (888) 886 3456.