Making nationwide auto transport faster, easier & more reliable since 2006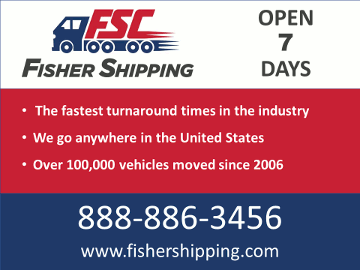 Based an hour west of Boston, Massachusetts, Fisher Shipping is a reliable nationwide auto transport broker. We are a third generation family business with over 30 years of experience in the car shipping industry.
Since opening for business in 2006, we have transported more than 100,000 vehicles all over the United States through our reliable vehicle carrier network. We move vehicles for auto dealerships, fleet management companies, major corporations and thousands of private individuals -including athletes and celebrities – to any point in the United States. Whether you're relocating for the season, for school or forever we know how to ship your vehicle reliably, expertly and at a reasonable cost.
Work with The Most Trusted Name in Auto Transport
We know you depend on a reliable auto transport company who takes your car shipping needs as seriously as you do. To ensure each car transport experience goes as smoothly and reliably as possible, our agents work hard to stay on top of industry trends and build realistic expectations for our customers. While problems and unexpected issues do crop up from time to time, our staff is well trained to handle these rare situations. They will communicate with you, answer your questions and do everything in their power to make your experience with us a positive one, like it has been for so many other customers.
From shipping a car to Florida for the winter, transporting a classic car from an auction, or moving a vehicle fleet across the state or even across the country, no job is too big. We treat every vehicle like it's our own.
Request a free car shipping quote online or give our friendly team a call at 1 (888) 886 3456. Or, keep reading to learn why we're different than the rest. Of course, you're welcome get in touch with any questions. We look forward to serving you.