Shipping off to Florida? We Can Help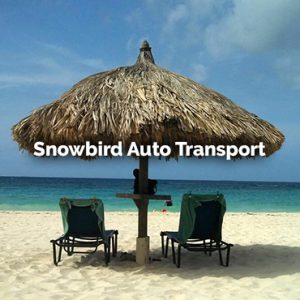 It's that time of year again. The annual winter migration south from New York, Boston, Chicago and other points north will soon be in full swing.  Now that the winter is coming, everyone that has spent their summer at home is preparing to migrate back south to Florida. When it comes time to ship your car to Florida, all of us at Fisher Shipping are ready to help you move your car, truck or SUV south to your winter home.
Of course, if you're ready to ship your car to Florida, get a quick quote using the form to the right.
Ship your Car to Florida with us – Leave the Snow Behind
Snowbird season occurs between October and January when everyone is heading south from the northeast and midwest.  The return trips most commonly occur between late March and Memorial day.
The good news is that you get to come back to see your winter friends in sunny, warm Florida – or perhaps Arizona, Texas or other points south and west.
The bad news is that transport between your winter home in Florida and your real home up north tends to be more expensive than any other time of year.
Snowbird auto transport season actually raises prices for most long distance trucking routes across the United States. Trucking companies often leave their normal routes to head to Florida to get in on the abundance of freight.  This leaves their standard routes under served, which in turns raises prices.
That being said, work with the most trusted name in auto transport to avoid headaches and endless voicemail. We make it easy to ship your car to Florida!
5 Reasons Snowbirds Choose Fisher Shipping
Friendly agents: we have the best customer service in the industry and you can always reach a real, live person between 9am and 9pm EST, 7 days a week.
Insurance matters to us: in addition to having significant requirements for our trucking company partners, we also carry a $500,000 contingent cargo insurance policy.
Same day pick up: although it's not the norm in this industry and it's going to cost more, in many cases, we can do it.
Happy customers: In addition to an A+ rating with the BBB, read glowing customer reviews on Google and Yelp.
Experience counts: we have been in business since 2006 and have been shipping cars for over 30 years.
Real prices: our cost to ship your car to Florida is all inclusive. You will get the vehicle shipped and delivered when you
expect it.
Call for a Free Quote and Get Ready to Enjoy the Sunshine
Since opening our doors in 2006, Fisher Shipping has moved thousands of vehicles to and from Florida. While we aren't the cheapest option available, we offer very competitive pricing and unmatched customer service.  Reach us 7 days a week from 9AM-9PM at 1 (888) 886-3456.  Call during standard business hours (Monday-Friday 9-5) and you are guaranteed to speak to one of our agents.  You won't ever get voicemail.
Snowbird
Customer Reviews