Need Reliable Car Shipping Services to or from LA?
Get handy LA car shipping tips, cost, reviews & more information.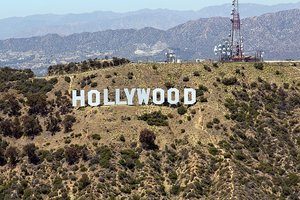 Los Angeles is home to over 3.5 million people, making it the second largest city in the US and a common auto transport destination. Whether you plan to check out Hollywood, go shopping in Beverly Hills, watch one of LA's championship caliber sports teams or take a cruise along the Pacific Coast Highway – there are countless reasons to ship a car to LA. Choose a reliable Los Angeles car shipping company to deliver your vehicle on-time and damage free – then get ready to explore the City of Angels.
If you're ready to find out the cost to ship your car to LA, use the form to the right to get a free customized open or enclosed car shipping quote. Or, call one of our friendly and helpful agents at 1 (888) 886-3456 today.
If not, read on for helpful tips for transporting your car to LA and why LA and Orange County dealers and vehicle owners have been trusting Fisher Shipping with all their car shipping needs since 2006.
Los Angeles Car Shipping 101 – Valuable Tips from Fisher Shipping
Whether it's to or from LA, your ideal shipping company strives for perfection every time they transport a vehicle. Whether you choose us or someone else, consider these 3 tips before selecting a transporter.
Do your research online. Shipping your car to Los Angeles should be a hassle-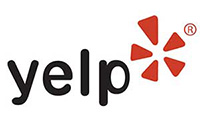 free experience. Look for reviews on Yelp, Google and the BBB with customers highlighting customer service, on-time delivery and communication. Your broker needs to make car shipping an easy process!
Avoid shopping based on cost. Rather than cost, we recommend evaluating Los Angeles car shipping companies on the greatest likelihood of a safe, on-time pickup and delivery. Avoid cheap car shipping quotes as they often lead to unwanted delays and stress. Instead, work with a reliable transporter that may cost a bit more but can give you an accurate car shipping quote that factors in time of year, location, distance and type of shipping.
Experience matters. The best Los Angeles car shipping company has a flawless five star reputation among customers. They are a well-established car shipping company, fully licensed and insured and are committed to safety, reliability and outstanding customer service. They also provide customized quotes that account for real-time factors that are more accurate than an instant car shipping quote generator.
Why Choose Fisher Shipping?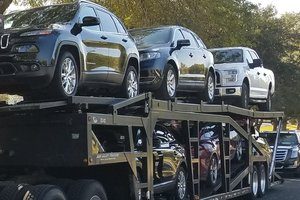 At Fisher Shipping, we have earned a reputation as the most trusted auto transporter and have been shipping cars, trucks and SUVs nationwide since 2006.
With over 30 years of reliable car transporting experience, we make shipping your car to LA from anywhere in the US an easy experience. We look forward to providing all your Los Angeles car shipping needs and getting you on your way to the City of Angels.
Los Angeles Zip Codes
93510, 91301, 91376, 91803, 91801, 91802, 91804, 91899, 91896, 91003, 91001, 91077, 91006, 91066, 91007, 90701, 90702, 90704, 91702, 91706, 90202, 90201, 90706, 90707, 90209, 90212, 90213, 90210, 90211, 91505, 91526, 91523, 91522, 91506, 91521, 91508, 91507, 91510, 91502, 91503, 91504, 91501, 91372, 91302, 91309, 91304, 91303, 91305, 91386, 91351, 91387, 90746, 90745, 90747, 90749, 90895, 91310, 91384, 90703, 91311, 91313, 91715, 91716, 91714, 91711, 90222, 90221, 90223, 90224, 90220, 91724, 91723, 91722, 90230, 90231, 90232, 90233, 91765, 90090, 90242, 90239, 90241, 90240, 91010, 91009, 91008, 91735, 91732, 91731, 91734, 90245, 91316, 91416, 91426, 91436, 90247, 90248, 90249, 91209, 91204, 91226, 91203, 91210, 91202, 91201, 91205, 91206, 91208, 91221, 91222, 91225, 91207, 91741, 91740, 91394, 91344, 91745, 90710, 90716, 90250, 90251, 90254, 90255, 90312, 90311, 90310, 90304, 90306, 90303, 90309, 90302, 90301, 90307, 90308, 90305, 91011, 91012, 91214, 91224, 90638, 90639, 90637, 91747, 91744, 91746, 91749, 91750, 93532, 90712, 90713, 90714, 90715, 90711, 93539, 93586, 93584, 93534, 93535, 93536, 90261, 90260, 93543, 93544, 90717, 90846, 90847, 90848, 90899, 90833, 90815, 90853, 90844, 90842, 90810, 90813, 90814, 90840, 90835, 90834, 90831, 90822, 90809, 90808, 90801, 90802, 90803, 90804, 90805, 90806, 90807, 90832, 90064, 90019, 90027, 90028, 90029, 90095, 90037, 90036, 90062, 90035, 90063, 90079, 90034, 90026, 90025, 90020, 90038, 90023, 90001, 90189, 90101, 90099, 90096, 90021, 90022, 90024, 90053, 90065, 90066, 90078, 90093, 90091, 90089, 90088, 90087, 90086, 90084, 90083, 90082, 90081, 90077, 90076, 90067, 90068, 90033, 90032, 90031, 90030, 90070, 90071, 90072, 90073, 90074, 90080, 90040, 90057, 90058, 90011, 90059, 90010, 90009, 90008, 90007, 90056, 90039, 90012, 90013, 90014, 90075, 90041, 90015, 90042, 90017, 90055, 90006, 90005, 90004, 90047, 90048, 90049, 90050, 90051, 90054, 90052, 90016, 90061, 90002, 90003, 90043, 90044, 90045, 90046, 90018, 90060, 90262, 90263, 90264, 90265, 90266, 90267, 90292, 90295, 90270, 91395, 91346, 91345, 91016, 91017, 90640, 91756, 91755, 91754, 91021, 91020, 91023, 91321, 91322, 91343, 91393, 91609, 91611, 91612, 91615, 91616, 91618, 91601, 91603, 91605, 91606, 91602, 91325, 91329, 91328, 91327, 91324, 91330, 90650, 90651, 90652, 90272, 91331, 91333, 91334, 93550, 93591, 93551, 93552, 93590, 93599, 90274, 91412, 91402, 90723, 91105, 91106, 91104, 91103, 91102, 91101, 91124, 91107, 91199, 91123, 91185, 91121, 91184, 91182, 91129, 91126, 91125, 91117, 91116, 91115, 91114, 91110, 91189, 91188, 91109, 93553, 90660, 90661, 90662, 90293, 90296, 90094, 91766, 91769, 91767, 91768, 91326, 90275, 90277, 90278, 91337, 91335, 91771, 91770, 91772, 91748, 91773, 91340, 91341, 91775, 91778, 91776, 91108, 91118, 90732, 90731, 90733, 90734, 91380, 91350, 91390, 91383, 91382, 90670, 90671, 90405, 90408, 90407, 90402, 90406, 90404, 90403, 90401, 90410, 90411, 90409, 91423, 91403, 91495, 91413, 91025, 91024, 90755, 91733, 90280, 91031, 91030, 91381, 91614, 91604, 91352, 91353, 91041, 91040, 91392, 91342, 91356, 91357, 91780, 91610, 90290, 90506, 90509, 90505, 90510, 90504, 90503, 90508, 90507, 90501, 90502, 91042, 91043, 91608, 91385, 91354, 91355, 91617, 91607, 93563, 91499, 91409, 91496, 91482, 91470, 91401, 91406, 91407, 91404, 91408, 91405, 91410, 91411, 90294, 90291, 91046, 91789, 91788, 91791, 91790, 91793, 91792, 91308, 91307, 90069, 90606, 90608, 90605, 90601, 90607, 90609, 90603, 90602, 90610, 90604, 90744, 90748, 91396, 91306, 91371, 91367, 91365, 91364