Mercedes-Benz Car Shipping 101 - Costs, Tips, Reviews & Information.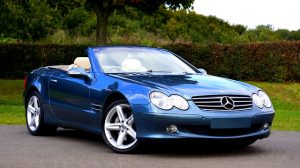 Mercedes-Benz is a a top luxury auto brand, that earns respect worldwide. With a myriad of car, truck and SUV models, Mercedes-Benz evokes feelings of refined elegance, safety, comfort, longevity and a top class driving experience. Indeed, when it comes to Mercedes-Benz car shipping tips, we recommend adopting their slogan: "the best or nothing."
Read on for useful tips regarding how to ship your Mercedes-Benz, associated cost and why Mercedes-Benz owners and dealers nationwide choose us. Of course, if you're ready to move your Benz, use the form to the right to get a free customized car shipping quote. Or, give us a call at 1 (888) 886-3456 today.
Mercedes-Benz Car Shipping 101 – Valuable Tips from Fisher Shipping
Just as Mercedes-Benz is held in high regard for it's quality and reliability; your shipping company should be viewed the same way. In addition to doing your research online, avoid shopping on car shipping price alone. Instead, trust only the best Mercedes-Benz auto transporter with a flawless five star reputation among customers. Make sure they are well established, fully insured and share your focus on safety, reliability and outstanding customer service.
At Fisher Shipping, we have a reputation as one of the few auto transport companies that fall in this elite category.
With over 30 years of reliable auto transport experience, we make Mercedes-Benz auto transport to anywhere in America an easy experience.
Trust the best Mercedes-Benz auto transporter since 2006 - ask our customers.
Philadelphia area Mercedes-Benz dealership loves our promptness and damage-free delivery...
Just a few words to express my satisfaction with Fisher Transport Company. I've utilized your services for a few years now to transport Mercedes-Benz SPRINTER and METRIS Vans. I've only and always dealt with Jessica. She was the first to respond to a request for a quote and she provided the most competitive offer. She also arranged for prompt pickup and delivery of the vehicle. Since then I've received several quotes and have had several vehicles transported by your company – always on time and free from damage.
Illinois dealership loves how we make the process painless...
Pat and the team at Fisher Shipping make the auto transport process painless and easy. Pat seems to ALWAYS be available which is much appreciated and crucial to keeping my customers informed and satisfied! We exclusively use Fisher Shipping for a reason!
Pittsburgh dealership loves our reliability and consistency...
I am not one to post reviews however I feel it warranted in this case. I have been in the car business for over 30 years and find your company to be the most dependable and reliable transport company with which I have ever dealt. Nobody is perfect and in the rare instances when you could not deliver as promised; it was beyond your control and you were quick to make our company whole as best you could. I would highly recommend your services.
Why Mercedes-Benz Dealerships & Owners Love Working with Fisher Shipping.
Auction to dealer transport: We ship to nearly every auction in the United States. Whether you are purchasing a single unit or need multi vehicle transport, you've come to the right place.
Dealer to customer transport: We understand that the transport of the vehicle to your customer is a reflection upon you. Let us help you finish the deal the right way.
Dealer trades: These time sensitive moves need to happen fast to keep your customer happy. In fact, we will coordinate everything for you.
Enclosed vehicle transport available: Since the MSRP for a new Benz is over $40k, you may want to choose covered or enclosed auto transport.