Need the Best Pittsburgh Car Shipping Services?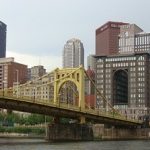 Fisher Shipping offers the best Pittsburgh car shipping services, shipping vehicles between Pittsburgh and destinations nationwide.
Since opening our doors in 2006, we proudly serve both Pittsburgh area dealerships and private customers, including Snowbirds. Beyond Pittsburgh, we serve the rest of Pennsylvania as well as Ohio, West Virginia and the rest of the country. Whether you need to move one vehicle or an entire fleet, count on us to get the job done faster than anyone else.
Get a free Pittsburgh car shipping quote or give us a call at 1 (888) 886-3456 .
Pittsburgh – Vibrant Education and Business Community with a History of Firsts.
Situated at the confluence of three rivers with over 400 bridges, Pittsburgh is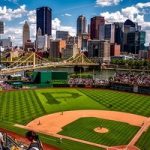 home to 303,625 people, making it the largest city in western Pennsylvania and second largest in the state. A thriving community, Pittsburgh is an attractive destination for college students with over 68 higher education institutions. Many of Pittsburgh's universities are known for science, technology, engineering and math. In fact, Pittsburgh's Carnegie-Mellon gave us the first wi-fi network, artificial intelligence software and even emoticons.
Pittsburgh's economic history is tied to manufacturing and more specifically, the steel industry hence it's "Steel City" nickname and Pittsburgh Steelers. Although the city has 300 steel-related businesses, today it embraces technology, robotics, and many other industries. In fact, Pittsburgh is home to the third most corporate headquarters in the country, only behind New York and Chicago.
Pittsburgh: Parks, Museums, Vibrant Neighborhoods and Sports.
Pittsburgh boasts a variety of parks, museums, sports, vibrant neighborhoods and more.
For example, you could start your day at historic Point Park, overlooking the Ohio, Alleghany and Monongahela Rivers. To get your museum fix, check out the the Andy Warhol Museum, featuring work of the Pittsburgh born-and-raised American artist. Those more interested in science should check out the Carnegie Science Museum. Next, perhaps check out the Monongahela Incline followed by lunch at nearby Station Square. After lunch, perhaps enjoy the scenic gardens at the Phipps Conservatory.
Of course, we can't forget Pittsburgh's sports teams. While the Steelers and Penguins are the city's most successful teams, it's well worth visiting PNC Park, home of the Pittsburgh Pirates. Finish off your day with some dinner at one of the restaurants in the Strip District, a lively Pittsburgh neighborhood.
Give us a call for all your auto transport car hauling needs.
Of course, this is just a sampling of all that Pittsburgh offers; we recommend experiencing the Steel City.
Pittsburgh Visitor & Relocation Resources.

If you're an auto dealer doing business in the Pittsburgh area or relocating, read these useful car shipping and visitor resources.
TripAdvisor Pittsburgh – Read this comprehensive guide to learn about all Pittsburgh offers.
City of Pittsburgh – The city's official website is helpful for people relocating to Pittsburgh.
Visit Pittsburgh– Check out this helpful visitor destination guide for both the city and surrounding area.
Pittsburgh Zip Codes
15112, 15122, 15201, 15202, 15203, 15204, 15205, 15206, 15207, 15208, 15209, 15210, 15211, 15212, 15213, 15214, 15215, 15216, 15217, 15218, 15219, 15220, 15221, 15222, 15223, 15224, 15225, 15226, 15227, 15228, 15229, 15230, 15231, 15232, 15233, 15234, 15235, 15236, 15237, 15238, 15239, 15240, 15241, 15242, 15243, 15244, 15250, 15251, 15252, 15253, 15254, 15255, 15257, 15258, 15259, 15260, 15261, 15262, 15264, 15265, 15267, 15268, 15270, 15272, 15274, 15275, 15276, 15277, 15278, 15279, 15281, 15282, 15283, 15286, 15289, 15290, 15295