Need Reliable Dealership Transport?
Learn more about our Dealership Transport Services - including dealer trades, auction transport, and out of state vehicle delivery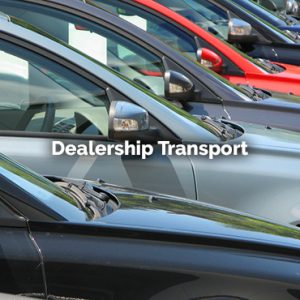 Fisher Shipping offers a range of exceptional dealership transport services. Whether you need auto auction transport, dealer trades or need to transport vehicles to out of state customers, we understand the unique challenges associated with every dealership transport scenario. Join hundreds of dealerships who rely on us for all their car shipping needs. Call 1 (888) 886-3456 today.
Dealer Trades
We will coordinate everything for you so this goes smooth, and most importantly, happens quickly. We keep both you and the dealer you are trading with in the loop at all times. You probably have a very anxious customer waiting for their new vehicle to arrive.
Jaguar of Morris County has used us for more than 30 dealer trades this year...
Fisher Shipping as been a fantastic company to work with. We have used them for more than 30 dealer trades this year. Every one of them has been delivered on time! As a manager of a car dealership the last few days of the month are the most important, we had a one more car to sell to hit our objective. That car turned out to be one all the way out in Illinois, we are located in NJ. I gave **** over at Fisher Shipping 4 days to get the car… He did it in 3!
I know that when I call, I will receive the same type of service that our clients expect to receive from us. Their prices are very fair considering the amount of effort they put in to making sure the pick up and delivery go as smoothly as they do!
Here at Jaguar Morris County we will continue to use  Fisher shipping for many years to come!
New Car Manager
Jaguar Morris County
Madison, NJ
Auto Auction Transport
You've spent hours online trying to find the right vehicles for your inventory, but you can't sell what you don't have in stock. Our goal is to get these vehicles to your dealership faster than anyone else in the industry. We offer discounts for multi-vehicle transportation as well. Fisher Shipping picks up thousands of vehicles every year from auctions across the United States. We should be moving yours.
#1 choice for a Chicagoland dealership that buys cars daily at auctions ...
I work for a Buick/GMC dealership in the Chicagoland area buying several cars daily at auctions. We have been working with Fisher Shipping for several years now, and have enjoyed their business 100%. They will always be my #1 choice for shipping!!! Jerry always goes above and beyond to get me the best price with quick turnaround. Thank you for everything you do, Fisher Shipping!
Inventory Manager
Arlington Heights, IL
Out of State Customer Vehicle Transport
The internet has created the opportunity for customers all over the world to buy your vehicles without ever leaving their living room. If you sell to customers online, you know how important smooth vehicle transport is. It's a reflection upon you and your dealership. Work with Fisher Shipping and we will walk your customer through every step of the auto transport process. We will make sure the last part of their vehicle buying experience is positive.
Out of state vehicle delivery was 'like clockwork'...
Once my vehicle was cleared for release to Fisher Shipping from the dealership, things went like clockwork. I was told by Fisher that the car might take a few days, depending on what other vehicles were on the same truck. I was more than delighted to hear from the truck driver that delivery would be a day or two early. The car was put on the truck one day, and delivered to me the next day. I am very pleased with Fisher Shipping's service and would recommend them to anyone looking to ship their vehicle.
Robert L. – new car delivery customer
We want to move your vehicles every time – call for a free quote
Our mission is to have our dealership clients contact us for EVERY move they do. We aren't looking to move one vehicle and then never hear from you again. As we build relationships with our clients, we evaluate all of your auto transport needs and provide cost and time saving solutions. Let us take the headache out of auto auction transport, dealer trades and getting vehicles to your customers. We're on your team!
We believe that our success depends on your success. By offering our clients the fastest turnaround times in the industry, coupled with competitive pricing AND exceptional service, we all succeed. If you have not yet had the opportunity to work with Fisher Shipping and our exceptional staff, call us today at 1 (888) 886 3456. Let us show you why hundreds use our auto dealership services.  We can be reached from 9AM-9PM, 7 days a week.
Auto Brands We Ship
We are proud to ship the following vehicle brands anywhere in the country. Hear from more dealers and customers from the major auto brands we ship for by clicking on their respective link below.
Dealership Customer Reviews