Get a free Hartford car shipping quote, plus reviews and transport info.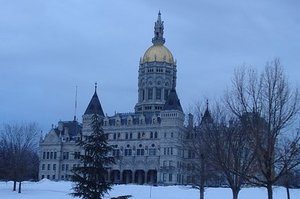 Fisher Shipping offers the best Hartford car shipping services, transporting vehicles nationwide since 2006. In addition to auto dealerships, we serve private customers in Hartford, Greenwich, New Haven, Stamford, Storrs and other areas of Connecticut. Whether we need to move one or many vehicles, we always get the move done safely and on time.
Get a free Hartford car shipping quote or give us a call at 1 (888) 886-3456.
How Hartford became the Insurance City
Hartford, Connecticut, founded in 1637 by Thomas Hooker, is the Insurance City.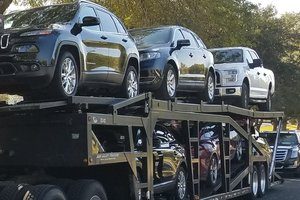 Located in central Connecticut on the bank of the Connecticut River, Hartford is home to 123,243 people. It is the state capital and one of the largest cities in Connecticut. Hartford conveniently sits on major auto transport routes to and from Massachusetts cities like Springfield, Worcester and Boston, with I-91 and I-84 running through the city.
After shipping your car to Hartford and driving around, you'll quickly see why it is the Insurance City. For over 200 years, Hartford's insurance companies have brought prosperity to the city and surrounding region. The city's insurance companies have an international reputation of reliability and consistency through a history of paying claims when other companies do not. This positive reputation continues today. Four of Connecticut's top ten insurance companies are headquartered or have a major presence in Hartford.
Just like Hartford, insurance is important to Fisher Shipping. Since safe auto transport is critical, we carry one of the industry's best policies when transporting your vehicle to and from Hartford.
Hartford: the Nation's Oldest Art Museum and Public Park to Mark Twain's Tom Sawyer
While Hartford is known for its insurance companies, the city is full of history and culture. For example, a trip to in Hartford perhaps includes a visit to the nation's oldest art museum, home of over 50,000 works of art. If you enjoy the outdoors, Hartford's got plenty of great parks. Attend an event in Bushnell Park, the country's oldest publicly funded park or enjoy the winding trails of Riverside Park. Catch up on CT news with a copy of the Hartford Courant, the nation's oldest newspaper boasting an uninterrupted publishing history since 1764. Perhaps visit the Mark Twain House, where the author lived for nearly two decades and wrote The Adventures of Tom Sawyer, among other American classics.
The city has even contributed to American automotive history. While in Hartford, Teddy Roosevelt became the first president to ride in a car in 1902.
Get a Free Hartford Car Shipping Quote from Fisher Shipping
Just as Hartford has a successful history, Fisher Shipping has enjoyed Hartford car shipping success as well. We transport vehicles for dealers as well as private clients to and from Hartford all over the country.
When you need auto transport services to or from Hartford, let us show you why our customers love us.
Request a free Hartford car shipping quote via the form below or call 1 (888) 886-3456 daily between 9am and 9pm EST.
Hartford Car Shipping & City Resources

Whether you're an auto dealer doing business in Hartford or relocating to Connecticut's capital city, check out these helpful resources.
City of Hartford – Hartford's city government website is full of useful links and resources for those relocating.
Hartford CT TripAdvisor – The best places to visit and restaurants in Hartford, CT.
History of Hartford – This site contains a variety of interesting resources around the history of Hartford.